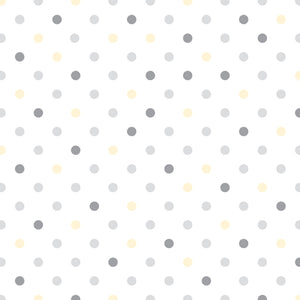 Con-Tact® Brand Grip Prints™ Dottie Gray
Con-Tact® Brand Grip Prints™ Dottie Gray is a playful pattern mixed with fun colors create an inviting environment reminiscent of a younger time. Sometimes we want to use patterns that makes you feel young, or at least young at heart. Design allows you to customize your home, apartment, condo, or room on a budget. 

Con-Tact Brand's Grip Prints liner combines decorative patterns with the durable, cushioned grip liner to keep it in place without an adhesive backing. The decorative vinyl provides a smooth, water proof surface to help preserve shelves. Grip Prints is also stain resistant and washable by wiping clean with warm water and mild soap.
Caution: Not for use on lacquered or urethane surfaces, finish damage may occur.
Roll measures 18" x 4' and also available as self-adhesive. View Creative Covering for product details.