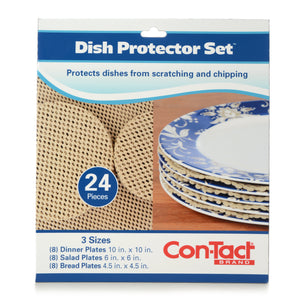 Dish Protector Set
Regular price $11.99 Sale
Con-Tact® Brand understands the importance of protecting your dishware. Many have memorable dishes that have been passed down generations and a crack would be heartbreaking. This is great for those who move often, RVs, campers or transporting to the next generation. Con-Tact took their innovative grip technology and customized a solution for protecting your dishware. The protection grip pads are non-adhesive and can be used on a wide range of plate sizes. Simply add the pre-cut guards between each plate, it's that easy! It's a small investment that is designed to protect your bigger investment, your dishware - your memories.

Each box includes 8 each of 4 1/2", 6", and 10" rounds 
Don't forget about the Pots & Pan Protector Set...